Routine: a usual set of activities or way of doing things.
Patterns are part of the world we live in and us humans are pattern spotters. "That strategy worked last time, this situation seems similar; I'll act similarly and things should work similarly". We create stories about how people behave and how things work that can ultimately aid our success. But achieving success, is not always the product of having made an optimal set of decisions, or even having spotted the pattern. The warm glow of getting it right can even consolidate errors we make unknowingly. Can we prepare for situations that don't conform to our previous experiences, that don't match our expectations?
Occasionally events unfold in ways that require us to recalibrate and I think this is useful. This deviation from routine offers the potential for novel experiences. These experiences would usually involve an element of uncertainty – "How would I cope in that situation?". For many, seeking novel experiences is fulfilling, perhaps necessary, but it can carry more risk too.
In the mountains, routine can be useful . Watching the weather forecast helps us pick a suitable objective, packing a rucksack to a tick-list prevents us forgetting crucial items and informing someone of our plans can be handy should we have an accident. But mountains have a habit of throwing up situations we haven't planned for. This variability is part of the reason we engage with them in the first place. They offer respite from routine; they offer novelty.
Embracing the novelty of wild environments is for most, beneficial. We might push our boundaries, acquire new skills, become stronger and better understand ourselves. On mountains, relationships are  forged; and occasionally broken. When we leave the street lights and cars behind we engage in anti-routine. Some people call that adventure. 
–
Navigating the single track roads north across Skye, through mid-summers' saggy cloud and drizzle it's fair to say I was holding expectations about how the day would unfold. I was on way to to pick up my client, Angus, from his holiday cottage in Carbost. Describing himself as an experienced Munro'ist, he was keen to engage in some Cuillin Ridge mountaineering. He'd driven over for the week and employed me to guide him.  He was in his mid seventies and I wondered how his age might influence his fitness and resilience. As the wipers swished at max speed and I pulled up to his accommodation, I mentally prepped myself. 
Stepping out of the car my bubble burst. Angus wore a sun hat, long cut Berghaus waterproof, moleskin trousers tucked into thick red socks and he greeted my with a big grin. Now to the untrained eye, someone going mountaineering in 2020 and not clad in athletic-cut, lightweight, pro-shells is heading for trouble. But to me, his get up spoke of mountain pragmatism, tried and tested authenticity and a bit of soul.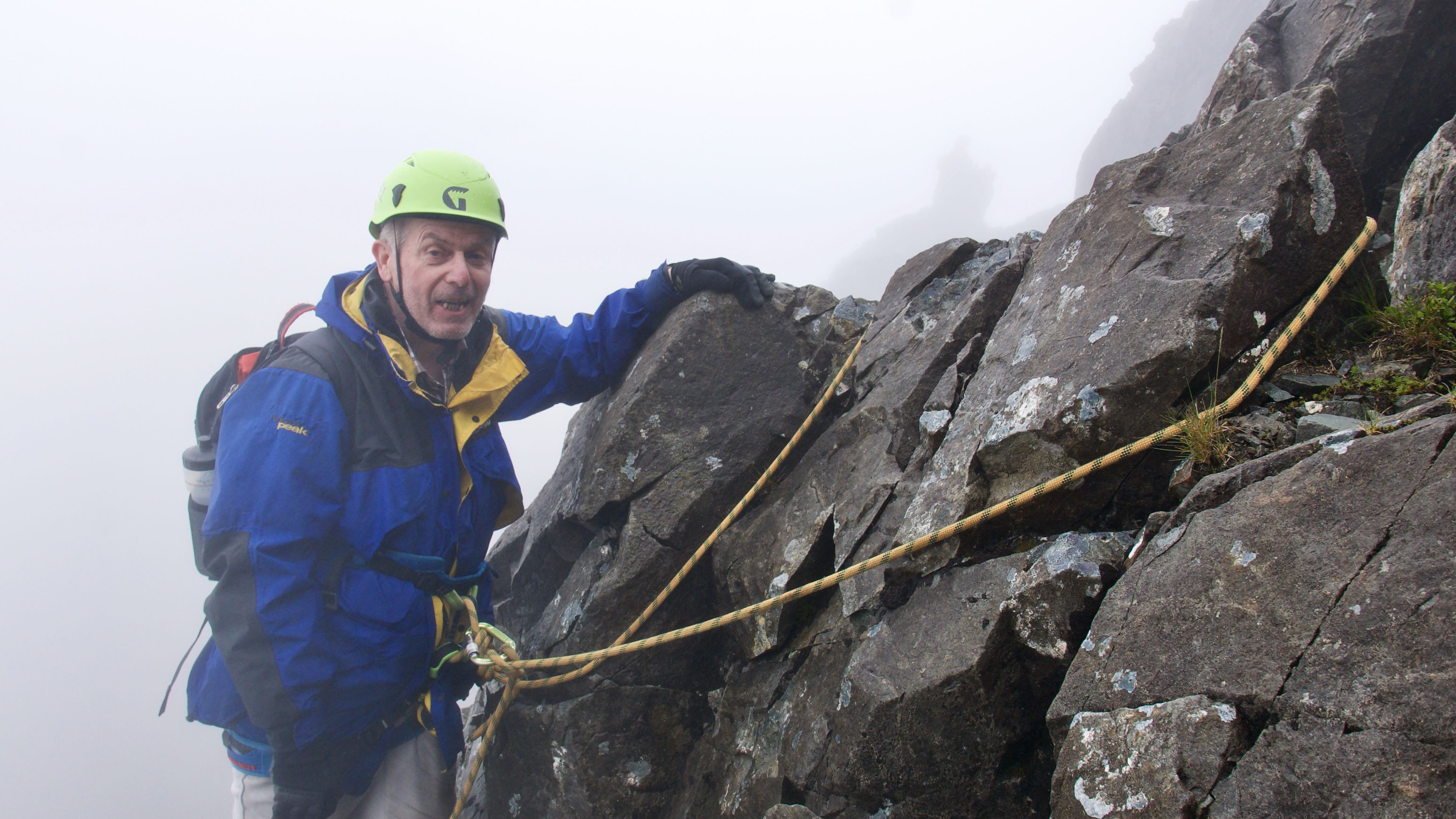 When working with clients part of my responsibility is to align their objectives and experience with the prevailing conditions. Beyond just having a safe day out, we'd aim for a fun, fulfilling one too, trying to make the best possible use of the day. Those with fixed objectives sometimes take a little persuasion toward a flexible plan. It's important to have this flexibility because the mountains still don't support a bookings system.
So I was relieved by my gut evaluation: when Angus's described his Cuillin objectives they seemed naturally aligned with his experience and he seemed to know more or less what he was getting himself in for. In spite of this, he sought to emphasise his age was catching up with him, that he was unsure of how he would cope with the weather and the rough terrain but was delighted to have a go and to turn back if necessary. I relaxed. Angus expressed the sort of modesty that reflected a life time in the hills.
Setting off up the Cuillin with a new companion in poor weather leaves a few unknowns to play out. There's no doubting I held expectations regarding Angus's age and ability; " can we afford to be committed in this minging weather?" "What if we're slow, get wet and cold ". Leaving the car my brain is on regular refresh, trying my best to gauge the variables.
Progressing out of Coire Lagan and up the boulders of the Sgumain Stone Shoot I wonder "What time do we need to make it to the crest by? What's the most efficient line across this slope?". Its easy to lose a minute here and there, especially in the poor visibility and the minutes make a difference. We commit to a pace that allows us to move carefully and efficiently over the gabbro boulders. Reaching the ridge crest everything is wet and slippy. We negotiate a slimy chimney and I keep the rope really snug. We make reasonable time, traversing broken rock and slabs and then up the zigzag tramlines that decorate the summit slopes. By 2pm we're stood on the very much pointed top of Sgurr Alasdair.
Boiling mists tease fleeting glimpses to nearby peaks. A raven croaks; ragged, unseen, echos. We shake hands. He's surprised himself. I'm impressed. Its not a day for hanging out but as the afternoon's showers strengthen he muses and gesturing across the dark void of the Great Stone Shoot to the lesser frequented top of Sgurr Thearlaich asks "What about getting across there, Pete?". I swither. The challenge is tempting! Could we fit it in now? We're already pretty wet. We'd be on the path by dark. I have a momentary inkling. "We don't have the time today, but let's keep it in mind, maybe we can link it together next time, with the peak next door".
Despite the prevailing weather on the west of Scotland, opportunities do occasionally present themselves. Given the option of a longer day via a more aesthetic route, I'll encourage this over the 'trade route' – the simplest line to bag the summit. The more aesthetic lines often offer more engaging scrambling and by taking these routes people can gain a deeper sense of of the mountain's architecture and the technicality offers challenge that builds their skill set. I make a mental note of his objective and consider how best to approach it next time. As we wander down the scree Angus enquires about other some esoteric routes. My interest peaks: there's nothing like a break in routine!
–
Over a few more days I get to know Angus. Like many Scottish hill goers, his Munros began as a weekend escape from the central belt. These mountains, with summits over 3000ft are distributed over a huge geographical area and ticking them all requires a huge commitment. Most Munro'ists have a few stories to tell.
Angus is a professional fiddle player who's played in major roles with famous orchestral groups. He finds inspiration in music that compliments the wild landscapes of the Scottish Highlands. Often, he'll refer to bits of music relating to a particular place, weather or mood. Some people have a way of speaking on behalf of places, communicating an intermediate language of music, written word and art; skills that illustrate understanding, reverence and immersion in place. I'm lucky to share these conversations; they offer a different perspective on familiar landscapes. Wandering up the glacially polished slabs of Coire Lagan his music is inspired by jagged peaks, the black cliffs and the minging Scottish weather. I try to imagine how music could speak the language of rock and water.
–
We plod leisurely toward Bealach Coire Lagan. We're following the stable bedrock above the scree slope that forms the apron of An Stac. In order to complete an 8hr journey, account for changing weather and the cumulative fatigue of being on your feet for a while, It's necessary to start early, maintain a steady pace and limit stops to fulfil only the necessary tasks. "Slow is smooth, smooth is fast" is our mantra. Grabbing a handful of peanuts whilst donning waterproofs, securing harnesses and helmets, ready to engage in the technical section. It's damp but the terrain is simple and we move together, walking with the rope between us for much of the way. We reach the summit of Sgurr Mhic Coinnich without any fuss. The tethers that bind the morning mists break and the stone cavities of Coire Lagan and Coir' Uisk are open wide. The crest dries. I check my watch; we're making good time. It' s a key decision point . Angus knows I'm considering our move. He doesn't enquire but I sense his anticipation; such is the draw of these pointy peaks.
I've taken a 60m rope so that I have the flexibility to lower him all the way down Kings Chimney, the steep corner that bisects the prow of Sgurr Mhic Coinnich. We've got time so I suggest carrying on. I explain this section carries additional risk. Its steeper and were more exposed to rock fall. I'm aware he could slip, and perhaps invert, as I lower him down the wall. We take time to talk through the descent so he knows how to position his feet and where to be mindful of loose rock. I check his harness is sitting optimally and I add a chest sling. I've tied him to both ends of the rope and when he's sat down on the bottom ledges, I can abseil after him and we both remain connected. He commits over the edge. Its fair to say the 30m vertical descent, with its abyssal drops on either side, gives him a chunky dose of adrenalin.
We continue moving together. I use the rope to continue protecting him on the steep scrambling steps, down to the bealach. He apologises, having taken a minor slip higher up. I brush it off. Its a little wet after all and I'm comfortable with the likelihood he'll find the odd step challenging. By the time we reach the crux chimneys of Sgurr Thearlaich we encounter friends and colleagues travelling in the opposite direction. Nobody is hanging around but I'ts nice to catch up. We slot in between descending teams. The penultimate tricky bit goes suprisingly quickly for Angus and appearing over the lip he offers a wry smile. I find out later my pal Dave has given him a footy up the smooth groove line!
The remaining stretch to the summit of Sgurr Thearlaich is a glorious walk over open slabs and my favourite little stretch of the the Cuillin. Before long we're heading back down the Great Stone Shoot, the great rubble filled gash that splits the mountain. After the unrelenting descent we drift back to the car, recounting the day's journey, the difficulties and discoveries. Its not long before we're hatching future plans. Angus has a list, of course.
–
The next time we meet is on a crisp Autumn morning. Sharp shadows cast across the glen floor. The grumble of a stag echoes from the coire. I arrive at the car park early, anticipating he'll already be there. He is. Angus has been camped in Glen Brittle for a few days. Not satisfied by the degree of wildness on offer at the main camp site, he's ferried 4 days supplies a few miles along the rough coast path to a spot where a stream runs by a patch of cropped grass. He describes it with fondness. A cold bath. Sunset view. Bliss. We don't hesitate to get going. I have in mind a gem of a scramble over the Thuilm ridge; a route that links naturally with a traverse of Sgurr a Mhadaidh, the peak he's keen to aim for next.
I'm aware the route will approach the limit of his technical ability but I think he's ready for the challenge. Like many a Cuillin scramble, its a mix of stable bedrock and shattered rubble. Care is taken in each hand and foot placement. Pulling at hand-holds is generally avoided. Dry rock and light winds offer a simple passage and we're delighted to feel our soles adhere effortlessly to the rough rock. As I make short pitches over and around the crenelated ridge Angus takes intermittent rests and like a rubber band stretching and shortening, we make our way steadily up and in to the bright sun.
Reaching the summit we find a wee perch, dig out our sandwiches and sit down. It's windless and the sun has warmed the rock. After a long week, including guiding 2 single day traverses, I'm also appreciative of the benign weather and opportunity to stop. Since its a shorter day we break our mantra of constant movement and stay; chatting and wondering, for almost an hour.
Sun fills the vacuous pit of Coir' Uisk. Angus takes a video and narrates the scene, describing all of the peaks in order from Mull to Torridon: the west of Scotland laid out. It's a savage landscape where the lack of identifiable structure is both beautiful and bewildering. Skye in particular, estranged from the mainland, feels an other place. Time has wandered here; a sort of geological stravaig with signatures of ice and flood. On the Cuillin the giants pestle carries on grinding stone and where water collects it makes rivulets and scribbles down the cliffs, cutting through heather to the loch where it empties back in to the Atlantic. We sit a bit longer.